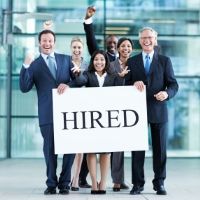 As the economic recovery continues to march on, everyone from the analysts on TV to your neighbor down the street looks for a sign that the worst struggles are behind us. Because no one can guarantee that unemployment will decrease or that stocks will be more bull than bear, the best anyone can do is look for positive signs around them.
When all else fails, direct your eyes to the hiring activity of businesses around you. For a period of time a "Now Hiring" sign was a rare sight. Today, with some confidence and consumer demand, companies are hiring again. They need skilled workers who can boost business and help it grow.
With that in mind, we have put together a list of companies hiring this very moment. These employers in a variety of industries across the country are looking for good workers right now.
Here are the companies hiring in September:
Aflac
Industry: Sales
Number of openings: 500
Sample job titles: Sales associates
Location: Nationwide
Allied Cash Advance
Industry: Credit union, finance, banking
Number of openings: 78
Sample job titles: Brand manager, district manager, customer service representative, branch team members, branch assistant manager
Location: California, Colorado, Indiana, Louisiana, Michigan, New Mexico, Texas, Virginia, Florida
Alpine Access
Industry: Customer service
Number of openings: 1,000
Sample job titles: Customer service
Location: Nationwide and work-from-home
Asbury Auto
Industry: Sales, automotive, mechanic
Number of openings: 100
Sample job titles: New car sales, used car sales, service advisor, auto tech
Location: Georgia, Florida, South Carolina, North Carolina, New Jersey, Mississippi, Texas, Missouri, California, Arkansas
Blackboard Inc.
Industry: Computer Software
Number of openings: 95
Sample job titles: Software engineer, regional sales manager, sales specialist, technical consultant, complex hosting manager, software developer
Location: Washington, D.C., Phoenix, Indianapolis
Camber Corporation
Industry: Defense and aerospace
Number of openings: 300
Sample job titles: Acquisition professionals, cyber analysts, applications developers, IA professionals, software engineers, linguist, aviation engineers
Location: Alabama, California, Texas, Michigan, Hawaii, Virginia, DC, Florida, Ohio, and Maryland
Chesapeake Energy
Industry: Oil and gas
Number of openings: 496
Sample job titles: Facilities engineer, production engineer, reservoir engineer, director of procurement, field technician, driller, truck driver, rig mechanic, engineering technician, geologist, landman
Location of jobs: Oklahoma, Texas, West Virginia, Pennsylvani, New York, Arkansas
Chico's, Soma Intimates, White House/Black Market
Industry: Retail
Sample job title: Sales associate, store manager
Location: Nationwide
City National Bank
Industry: Banking, financial services
Number of openings: 141
Sample job titles: Financial sales advisors, relationship managers, residential lending officers, senior mortgage loan underwriters, operations supervisors, policy and procedures supervisors
Location: California, New York
Davaco Inc.
Industry: Retail, restaurant contract services
Number of openings: 500
Sample job titles: Finish-out installers and lead installers, product merchandisers
Locations: Nationwide
Dendreon Corporation
Industry: Pharmaceutical, Biotechnology
Number of openings: 700
Sample job titles: Cell processing associates, materials associates, QA and QC associates, human resources, facilities, engineering, IT support and compliance, government affairs, validation, clinical affairs, medical affairs, APH network, product development, marketing
Location: Atlanta, Seal Beach, Calif., Seattle, Morris Plains, N.J.
Dollar Tree, Inc.
Industry: Retail
Number of openings: 1300
Sample job titles: Assistant store managers, store managers, distribution center associates
Locations: National
Edward Jones
Industry: Financial investments
Number of openings: 400
Sample job titles: Financial advisors, branch office administrators
Location: Nationwide
Examiner.com
Industry: Online media
Number of openings: 10,000
Sample job titles: Writers, photographers
Location: Nationwide
F5 Networks
Industry: Network, computer products
Number of openings: 115
Sample job titles: Senior software engineer, test engineer, field systems engineer, major account manager, territory account manager
Location: Nationwide
Glendale Adventist Medical Center
Industry: Health care
Number of openings: 55
Sample job titles: Business analyst, certified nursing assistant, charge nurse, director of perinatal services, LVN, monitor tech, occupational therapist, physical therapist, physical therapy aide, registered dietitian, registered nurses
Location: Glendale, Calif.
Humana Inc.
Industry: Health insurance
Number of openings: 400
Sample job titles: Registered nurses, case managers, pharmacists, pharmacy tech, sales
Location: Louisville, Ohio, Texas, Wisconsin, Florida, Arizona
Infor Global Solutions
Industry: Software/hardware solutions
Number of openings: 67
Sample job titles: Senior software engineer, business development, product manager, license manager, director of product management
Location: Colorado Springs, Tampa, Atlanta, Rancho Cordova, California, Ann Arbor, Salt Lake City, Chicago, Malvern, Pennsylvania, Greenville, S.C.
JBFCS
Industry: Health care, social services
Number of openings: 100
Sample job titles: Social workers, milieu counselors, registered nurses
Location: New York
The Mergis Group
Industry: Accounting and finance, engineering, sales
Number of openings: 500
Sample job titles: Lead engineer, tax manager, mortgage professionals, quality engineer, CFO, controller, business development manager
Location: Nationwide
MRINetwork
Industry: Staffing and recruiting
Number of openings: 500
Sample job titles: Account executives, search consultants, project coordinators, Internet researchers
Location: Nationwide
Oak Ridge Associated Universities
Industry: Educational and government contractor
Number of openings: 1,000
Sample job titles: Postgraduate research associates, evidence control specialist, desktop publishing specialist, health education specialist, health physicist, programmer analyst, property management specialist, administrative clerk, program specialist, administrative assistant
Location: Virginia, Maryland, Washington D.C., Ohio, Colorado, Tennessee, California, New Mexico, Georgia.
Oldcastle
Industry: Sales, construction, manufacturing
Number of openings: 500
Sample job titles: Outside sales, plant engineer, skilled labor
Location: Nationwide
Orkin Pest Control
Industry: Pest Control
Number of openings: 138
Sample job titles: Pest control specialist, national accounts sales director, security analyst, network engineer, branch manager trainee, administrative assistant, outbound sales specialist
Location: Nationwide
Ozark National Life
Industry: Insurance, sales
Number of openings: 100
Sample job titles: Licensed insurance agent
Location: Missouri, Illinois, Florida, Nebraska, Iowa
Paycom
Industry: Internet services
Number of openings: 50
Sample job titles: Outside sales representatives
Location: Houston, Austin, Ft. Worth, Dallas, Oklahoma City, Tulsa, St. Louis, Phoenix, Los Angeles, Irvine, Denver, Chicago, Atlanta, Charlotte, Tampa
Securitas Security Services USA Inc.
Industry: Security guard
Number of openings: 300
Sample job titles: Security officer, supervisor, EMT
Location: Nationwide
UPS
Industry: Sales, warehouse and transportation
Number of openings: 500
Sample job titles: Package handler, driver, accounting, inside sales, mechanic, outside sales
Location: 50
URS
Industry: Engineering
Number of openings: 2,150
Sample job titles: Architectural engineer, chemical engineer, civil engineer, electrical engineer, environmental engineer, geotechnical engineer, construction management, estimating and scheduling, aircraft and vehicle technicians, facilities management, instrumentation and controls, logistics, project controls
Location: Nationwide
Vestas Wind Systems
Industry: Wind energy
Number of openings: 50
Sample job titles: Project manager, systems engineer, supply chain specialist, service performance specialist, SCADA systems manager, product manager, transport specialist, technicians
Location: Nationwide
Waggoner's Trucking
Industry: Transportation
Number of openings: 100
Sample job title: Truck driver
Location: Nationwide